Racist Fans are coming for Disney's Wig after Casting Halle Bailey as Ariel in 'Little Mermaid' Remake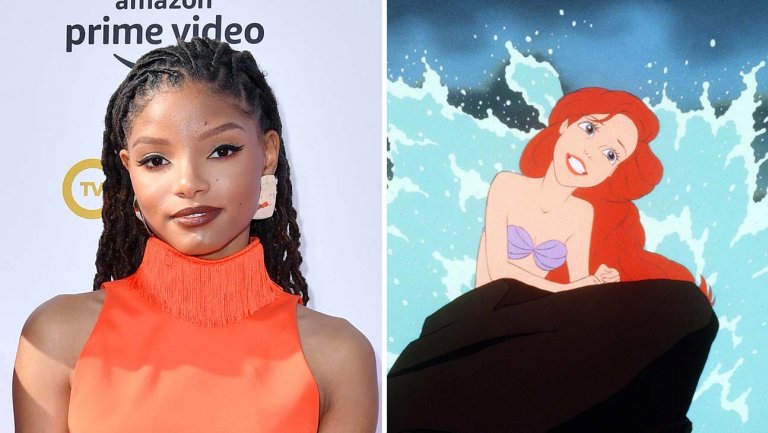 When Disney announced that Halle Bailey, a black singer and actress most known for her role on the Freeform series Grown-ish, would play Ariel in the upcoming live-action remake of "The Little Mermaid," some people were not happy.
Other people were not happy about the people who were not happy.
In Disney's 1989 animated movie "The Little Mermaid," Ariel is portrayed as a white female with bright red hair.
In recent years, Disney has been making strides to cast more diverse people (Marvel's Black Panther, Moana) and remove content that no longer represents what the company stands for, such as the Stinky Pete blooper scene.
Following this trend, Disney announced Bailey had been cast to play Ariel.
People responded, taking to Twitter using #NotMyAriel to express their anger or glee.
@Disney You just ruined The Little Mermaid. Why is it so hard to be accurate with the original animated movie? I don't have a problem with the actress, but she doesn't look like Ariel at all. If u want more diversity, why don't you make new movies with new characters? #NotMyAriel
Many people were happy with the choice, saying they they had grown up with no representation at all. View image on Twitter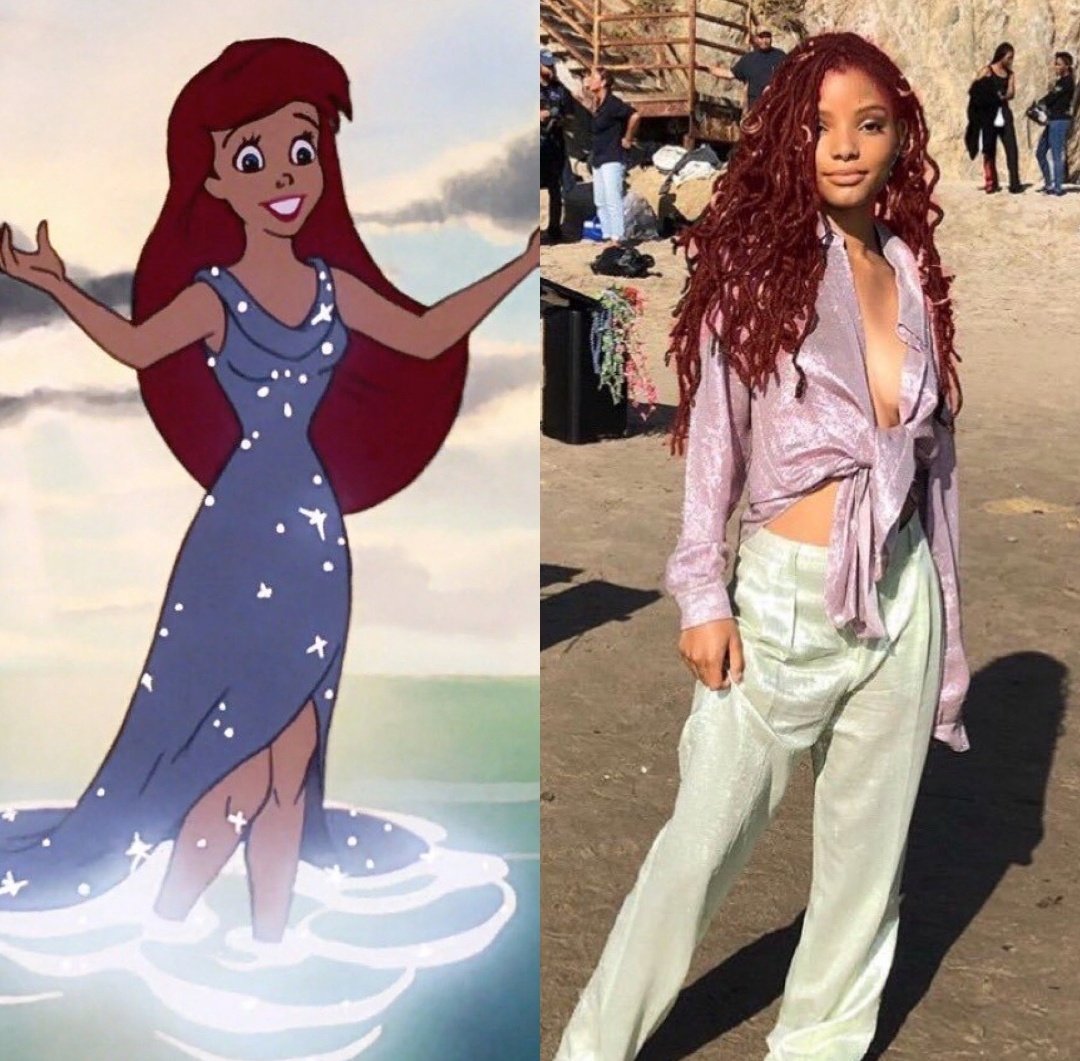 "Girl pls some of us grew up with no representation/diversity at all. Imma need yall to chill with the #NotMyAriel tweets and get with the times. It's 2019 and anyone can be a princess," said one Twitter user.
People upset used a hypothetical question, asking "What if they made Tiana (Disney's only animated black princess from The Princess and the Frog) white?" But others, including actress Ryan Destiny of Fox's "Star," noted that that was the only example they could use.
Others argued that Ariel isn't any race, but a mermaid who can be portrayed any way Disney wants.
Bailey is well known for singing with her sister, Chloe, and has sung at the Super Bowl. Their YouTube page, which features Chloe x Halle singing covers and doing original songs, has millions of views.
Disney's other non-white princesses include Jasmine, who was played by Naomi Scott in the live-action remake of "Aladdin," and Mulan, who will be played by Liu Yifei in the upcoming live-action remake of "Mulan."
According to an announcement made on Disney's D23 website, the film will be directed by Rob Marshall and produced by Marshall, John DeLuca, Marc Platt and Lin-Manuel Miranda. The film will feature songs from the animated classic by Alan Menken and Howard Ashman, as well as new songs by Menken (music) and Miranda (lyrics).
More announcements about the movie are likely to be made at Disney's D23 Expo from Aug. 23 to 25. The expo is where Disney gives sneak peeks at upcoming films, according to its official website.
Production is expected to begin in 2020, according to Disney.
Facebook Comments
Charlize Theron, Nicole Kidman and Margot Robbie star in first-look for 'Bombshell'
Starring Charlize Theron, Nicole Kidman and Margot Robbie, "Bombshell" follows the story of several female Fox News personnel and their sexual harassment claims against the network's founder, Roger Ailes.
Theron stars as Megyn Kelly, Kidman as Gretchen Carlson, Robbie as Kayla Pospisil and John Lithgow as Ailes.
Ailes' sexual misconduct was first brought to the forefront in 2014 with Gabriel Sherman's book, The Loudest Voice in the Room, in which he detailed how Ailes offered a well-known television producer a raise if she slept with him.
Two years later, Carlson filed a lawsuit against Ailes for sexual harassment and claimed she was fired for fending off his advances. Kelly later followed suit, detailing her experience with Ailes in her 2016 book, Settle for More.
After Ailes departed from Fox News in the same year, he later was named advisor for Donald Trump's presidential campaign.
Bombshell is scheduled to arrive in theaters Dec. 20.
Facebook Comments
Robert De Niro, Al Pacino, and Joe Pesci star join forces in Martin Scorsese's THE IRISHMAN
Robert De Niro, Al Pacino, and Joe Pesci star join forces in Martin Scorsese's THE IRISHMAN, an epic crime drama centered in post-war America narrated by World War II veteran Frank Sheeran.
The Irishman will make its debut at the New York Film Festival. The movie is expected to still have a limited theatrical release to make it viable in the Oscar race before it arrives on Netflix.
Facebook Comments
BBC Documentary 'A Fresh Guide to Florence with Fab 5 Freddy' headed US this Fall
Hip-hop pioneer Fred Brathwaite AKA Fab 5 Freddy has announced that his acclaimed BBC documentary — A Fresh Guide To Florence With Fab 5 Freddy, which debuted in the UK this past weekend — will be coming to the US this fall. The documentary follows Fab 5 Freddy as he embarks on a quest to uncover the hidden black figures of Italian Renaissance art.
"Not only were Renaissance artists making art that defined high aesthetic ideals but they were also groundbreaking in showing an ethnically diverse, racially mixed Italy in the 15th and 16th century. You just have to look at the art," he said in a statement."
The documentary centers the hip hop legend and art lover as he examines the 15th and 16th century Italian Renaissance art in 15th-century style – on horseback. Amidst superstar artists such as Michelangelo and powerful patrons such as the Medicis, Fab discovers ground-breaking images of a multi-racial and multi-ethnic society that have slipped through the cracks of art history. In a 5-star review, The Financial Times says Fab "visits Florence to insouciantly blow the dust off art history" and The Guardian says that he is "on terrific form."
A Fresh Guide is just another chapter in the incredible year for Fab 5 Freddy. He released the highly praised 4/20 Netflix documentary Grass Is Greener, which traces the history of cannabis in America and its relationship to people of color. The film takes an unparalleled look at the history of cannabis usage in America through the lens of popular forms of music — jazz, reggae, and hip hop — while also examining the racial disparities and injustices within that world. The film has a 100% rating on Rotten Tomatoes and just was named to the UK-based Grierson Awards shortlist for Best Single Documentary (International).
A Fresh Guide To Florence With Fab 5 Freddy will come to US homes this fall, date and other details to be announced later this year.
Facebook Comments